Participation registration period for VETECO 2018, which forecasts a growth of 30%, now open.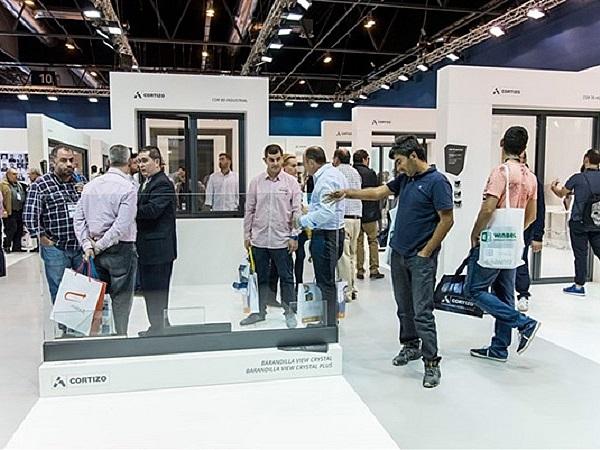 More than 1,600 exhibiting companies, and 80,000 visitors from 100 countries, will have an appointment to meet from November 13 to 16 at ePower&Building, thereby making Madrid the world capital of the building cycle.
IFEMA convenes the 16th edition of the International Window, Façade and Solar Protection Trade Fair, VETECO 2018. It will be held later this year from November 13 to 16 in Pavilions 9 and 10 of the Feria de Madrid Trade Fair Centre. Over 400 companies from the window, façade and solar protection sector are expected to participate.
Promoted by ASEFAVE, this year the event sees the incorporation of a new sector, with its own identity, VETECO GLASS, to meet the specific needs of the glass industry. The incorporation of the aforementioned sector, together with that of VETECO SOLAR, which was added to the successful first event held in 2016, makes this one of the sector's most extensive European trading platforms.
Furthermore, VETECO is being held in conjunction with all the other specialised IFEMA construction trade fairs - CONSTRUTEC, ARCHISTONE, BIMEXPO, MATELEC and MATELEC LIGHTING -, under the umbrella of ePower&Building, which is where the most innovative solutions with respect to the entire building lifecycle are on offer, namely everything from the conception of the project and design, execution of works, maintenance tasks and habitability, to constructional refurbishment and rehabilitation.
An event whose motto is "Transforming the Way We Build a Green World". Sustainability, innovation and technology are the hubs around which the discourse of all the elements associated with VETECO revolve.
The various trade fair components that go to make up ePower&Building will bring together over 1,600 exhibiting companies and 80,000 professional participants from 100 countries, thereby making it one of the most comprehensive international platforms for the entire lifecycle of the building process.
The large number of professionals from all over the world to have confirmed their intention to attend means that VETECO is one of the sector's principal international platforms and meeting points.
The companies taking part in VETECO 2018 will once more provide the most innovative offer of windows, structural glazing, lightweight façades, ceilings and skylights, glass, solar protection and control, automatic doors, home automation and automatic systems, and machinery.
One of the main novelties of this year's event is the VETECO GLASS sector. Its specific sectoral identity is designed to meet the particular needs of the glass industry, thus completing the VETECO offer: from the glass manufacturers through the glass transformation companies to the suppliers of the window manufactures, cladding firms, glaziers, etc.
Furthermore, the event will be featuring a significant number of equipment manufacturers and distributors (machinery, tooling, fixtures, fittings and accessories, sealants, micro-profiles, etc.).
For its part, VETECO SOLAR will once more form the best commercial setting for companies producing blinds, awnings, fabrics, automatic systems, bioclimatic pergolas and structural solar control elements.
This event, which was first held in 2016, generated an excellent response from exhibitors and visitors alike, being designed to cater especially for the specifications and architecture channel, construction and refurbishment companies, as well as for awning professionals, manufacturers, workshops and installers who will be preparing their 2019 campaigns.
Likewise, VETECO SOLAR will once again be the venue for this year's Iberian Solar Management and Protection Congress, which is where the very latest matters of interest to this segment will be tackled by a panel of experts.
ARQUITECTURA con EÑE will once more form the backdrop of meetings, negotiations and the dissemination of trends and know-how for architectural studios, engineering firms, construction companies, developers, REITs, etc.
A space for generating connecting links between exhibiting companies and potential clients, for looking for business and collaboration opportunities and where there will be presentations of projects, architectural competitions, meetings, guided tours, etc.
There will also be the presentation of the 2nd Arquitectura con Eñe Awards, which include the prestigious VETECO-ASEFAVE Awards presented to different categories of cladding.

VETECO has planned different initiatives intended to provide companies with a maximum return on their investment.
This will be done by way of greater specialisation and personalisation of the offer to adapt it to the interests of each professional visitor profile; by strengthening the sectoral seminars and knowledge programme; by the use of tools such as a B2B meetings diary, Professional Meeting Point, the Veteco News newsletter, etc.; via the worldwide professional visitor acquisition campaign, by way of the "Building Digital Network Campaign" plan; speakers corners for training; technical specification routes, or made-to-measure communication plans, among other measures.
VETECO 2018 has already opened the period for companies to register their participation by entering their applications on www.veteco.ifema.es up to April 20, which is the first priority cut-off date for guaranteeing preference in the initial distribution of spaces, which will be done on April 25 and 26.